What is the process flow of the limestone milling production line?
Vertical mill manufacturer Clirik is an experienced milling machinery and equipment manufacturing plant. In response to the needs of grinding of limestone ore, Clirik provides professional vertical milling equipment to help limestone projects increase production capacity and create rich profit values. Clirik

limestone milling The production line

has scientific process flow and high milling efficiency, which has been praised and supported by many customers.
Vertical mill equipment

for grinding limestone powder
With the further increase of production capacity requirements, more and more enterprises hope to adopt advanced grinding equipment and production technology to improve the efficiency of the grinding production line and reduce the overall investment cost, thereby bringing greater profit value and increasing market competition. force. The vertical mill equipment provided by Clirik was successfully used in the processing and production of limestone powder. The mill has high output and efficiency, and meets the requirements of energy saving and emission reduction. Does it integrate drying, milling, classification, and transportation, and all performance indicators have been obtained? It can be used for grinding a variety of non-metals with Mohs hardness below 7 and humidity within 6%.
Clirik milling equipment:

CLUM vertical milling machine
[Into the grinding material particles]: 0-50mm
[Moisture into the mill]: <15%
[Product moisture]: ≤1-6%
[Output]: 5-700t / h
[Finished product size]: 22-180μm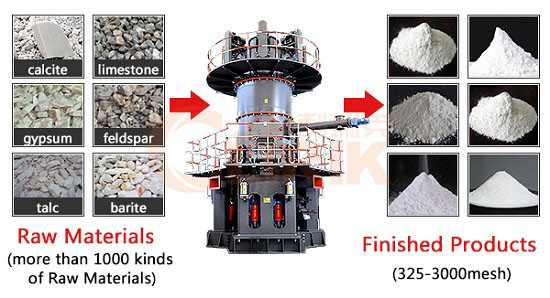 Introduction of

Limestone Vertical Mill

Production Process
Grinding limestone powder, the application of vertical grinding equipment is a blessing for increasing the production capacity. The limestone powder production line has a scientific process, high milling efficiency, large production capacity, low energy consumption, low noise, environmental protection and energy saving. It is an ideal limestone powder grinding. device.
Process introduction: It consists of four stages: crushing, milling, classification and collecting. The crusher is used to crush the raw ore; secondly, the material enters the grinding roller table and is crushed by being crushed, ground and sheared under the pressure of the grinding roller; again, the high-speed airflow blows the material up, and the coarse-grained material enters It can be reground inside the grinding disc, and the suspended materials can be dried. The fine powder will be brought to the classifier for classification. Finally, the qualified fine powder will be collected by the dust collection equipment into finished products, and the unqualified powder will fall into the grinding disc again. Grind.
Limestone ore grinding,
vertical mill
equipment is a pulverizer that helps the project create value, and Clirik's limestone pulverizer production line has a scientific process and high milling efficiency. Welcome to call to the factory for more exciting equipment information. Contact: 008613917147829.